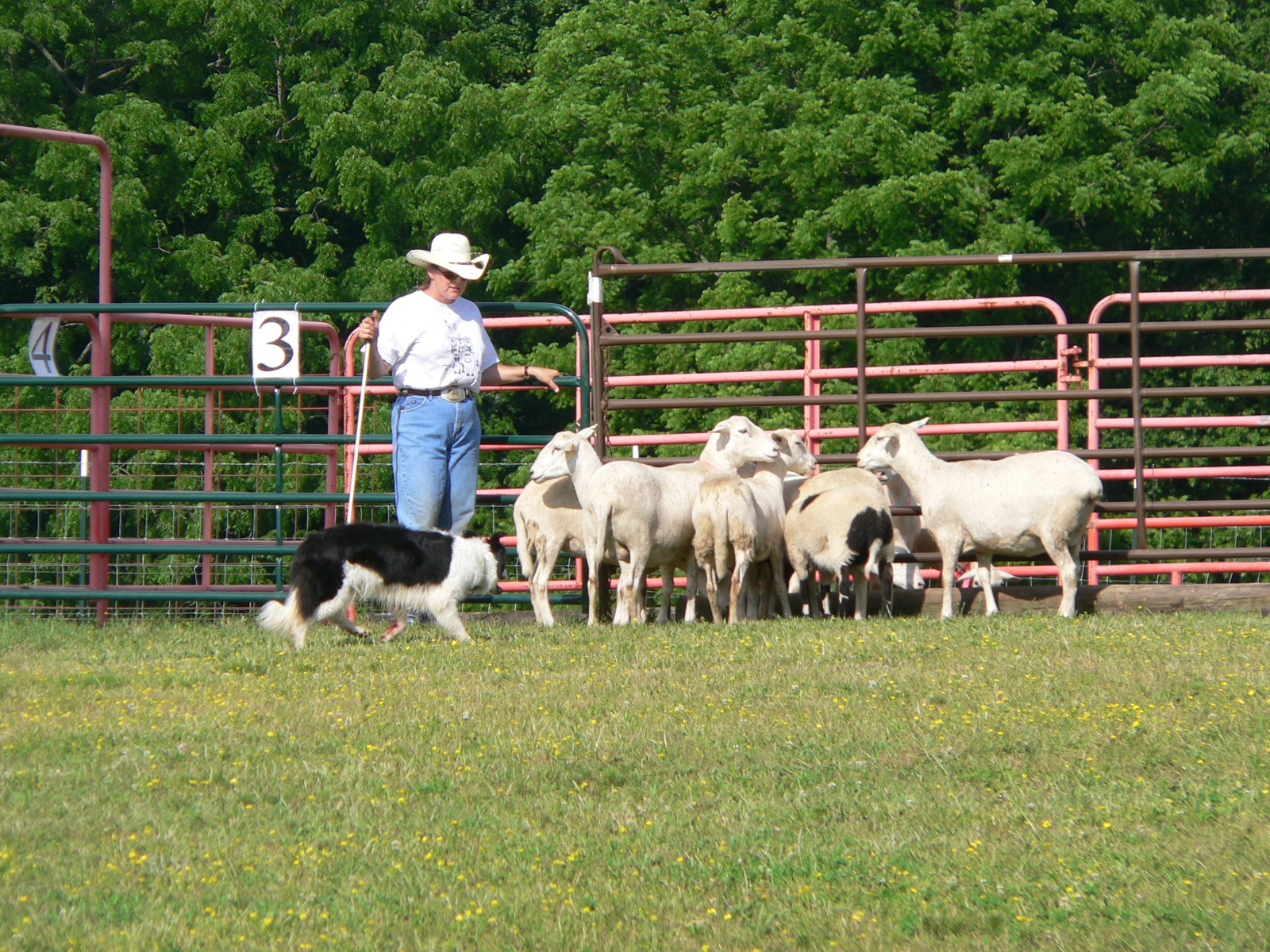 When I first began training Border Collies, I trained under the watchful eye of Bob Vest. He had so much to teach, and I had so much to learn. I began training Patches, the first of my BC's. Bob made an impression on me from the very first day on how important the fundamentals in herding are. Just as with any sport, if you miss a step, it will come back to haunt you. That first day Bob told a story about building a stack of barrels up on top of one another and how much this was just like building the foundation in your herding dog. For instance when stacking barrels, you would want the heaviest ones that gave the most support, on the bottom. If you stacked heavy barrels on top of light barrels, something could come along and bump the barrels, and the whole stack would fall down rather easily.
So, you want the heavy, solid barrels at the bottom, so when some really nasty bump came along, the solid barrels would withstand the pressure applied, and the stack of barrels would hold. Then he began explaining to us on how the bottom barrels had became solid (heavy). They had been filled with sand. He told of the sand that had been placed in each barrel, one handful at a time. This handful of sand was each lesson we gave our dog. Sometimes when we were working with the dog, we would put a hole in our "bottom barrel", and we would loose our precious sand out of the barrel. We would then have to work harder, and more diligently to overcome the damage we had done. He explained that just as in any patchwork done, it was weaker than the part without a hole, and it would be the part most likely to leak under pressure. I have continued today with this philosophy in training my dogs. They must have a solid foundation. The more solid the bottom barrels are, the more pressure my dogs can endure.

When I started training with Bob, I trusted him completely. I knew he would lead me down a path with my dogs that took me to a good place. Bob taught me that gadgets were just things that some trainers used to get a "quick" fix. I am thankful that I have never fallen into that trap. He taught me that trust in my dog, and that my dog trusting in me were the two most important things that I needed.

Bob has a saying:

"Time, patience, and belief in your dog, will make your goals happen."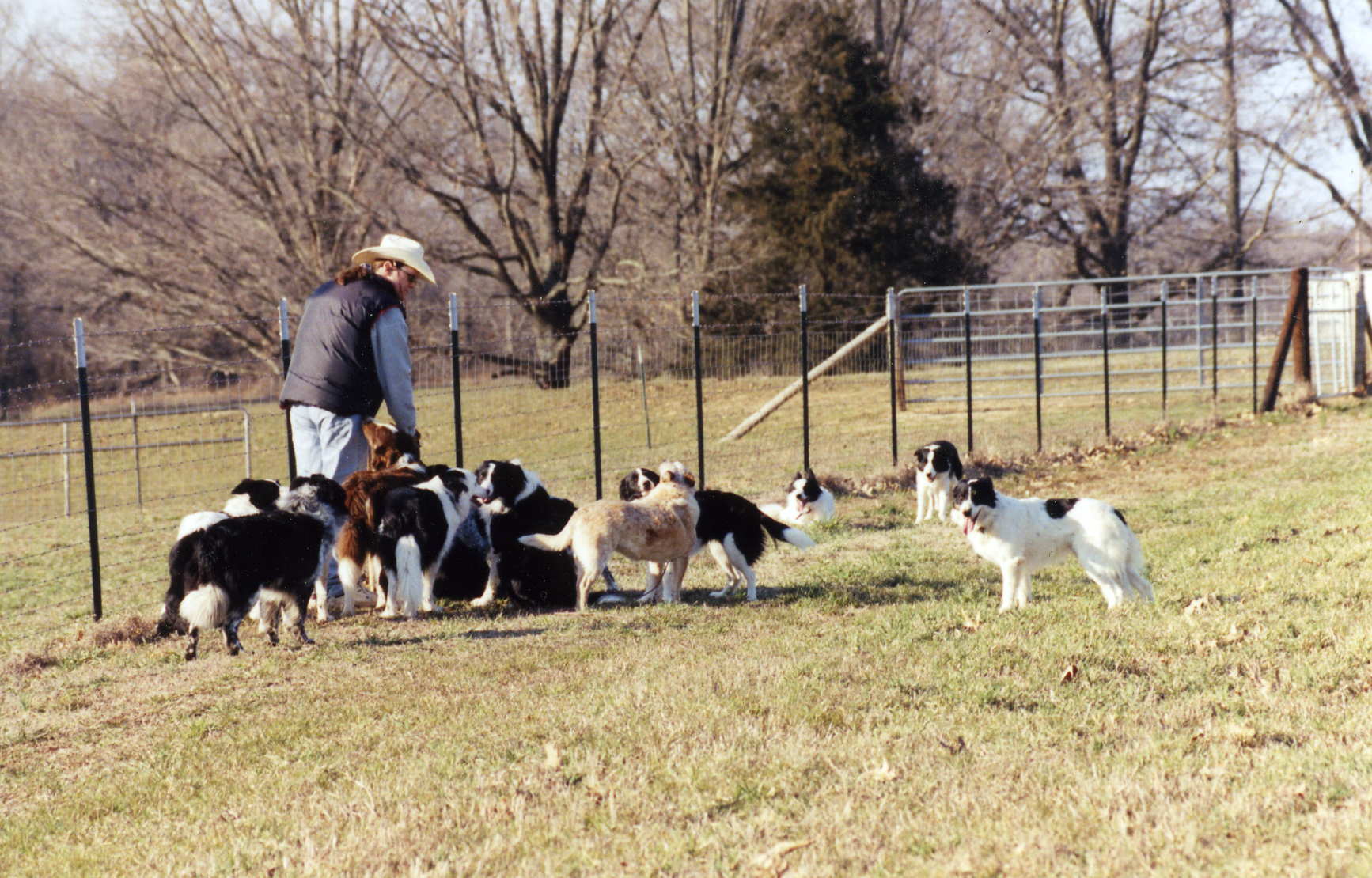 Walking the dogs

While training we tend to want to be "perfect" when we are doing a lesson with our dog. We get so locked into doing it exactly right, that when things start to get a little wobbly we start to panic. I might add here that remaining calm while training was not only replica handbags the best information I was ever given, but was the most difficult thing to learn to do. Many hours were spent "training" me. We are human. Thank God our dogs have been given that unconditional love, that overcomes our faults.
I would like to take this time to say thank you Bob. And thank you Nyle, for instilling the importance of those wonderful fundamentals. and never letting my feet get too far off the ground.
Another major influence in my life is a man named Ray Hunt. A legend. I have used his techniques with horses for many years, and as Ray encourages, with life in general. Ray's techniques work well with dogs. His principles are simple. Make the right thing easy, and the wrong thing difficult. Recognize the smallest change, the slightest try. You must learn to do this. It is not something that will happen overnight. It's a way you think. It's a way you live. It is a way of life Training is discipline. Discipline within yourself so that you can have it with your dog.
To attain your goal. An idea must go across at first. It takes some physical pressure in the beginning. But, you keep doing less and less physical pressure and get more and more verbal understanding. Pretty soon it's a feeling following a feel, and you reach your goal. What difference does it make whether it comes today, tomorrow, or next year.
Read "Think Harmony with Horses" by Ray Hunt. It will enlighten you, and help you obtain your goals.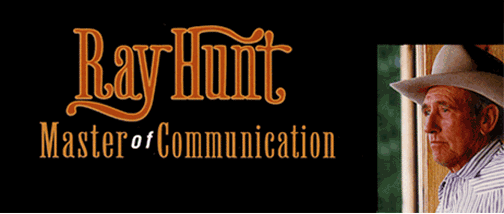 visit Ray's website